Submitted by food_0444 on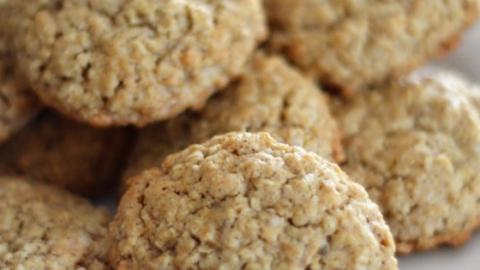 I like these sometimes since oatmeal cookies tend to get too hard. Not sure where I got this recipe from.
Ingredients
6 ounces unsalted butter, fluid and warm—roughly 105°F (1 1/2 sticks; 170g)
1 tablespoon (15mL) vanilla extract
1 large egg, cold (about 50g)
7 ounces light brown sugar (3/4 cup, gently packed; 200g)
7 ounces white sugar (1 cup; 200g)
2 teaspoons Diamond Crystal kosher salt; half as much by volume if using table salt (7g of either kosher or table salt by weight)
1 teaspoon (3g) ground cinnamon
1/2 teaspoon (3g) baking soda
7 ounces old-fashioned rolled oats—not quick-cooking or instant (2 cups; 200g)
6 ounces all-purpose flour, not unbleached (1 1/4 cups; 170g)
7 ounces dried cranberries or cherries (1 1/4 cups; 200g)
Directions
Adjust oven rack to middle position, preheat to 350°F, and line 2 aluminum baking sheets with parchment (not wax paper).
Combine butter, vanilla, egg, brown sugar, white sugar, kosher salt, cinnamon, and baking soda in a medium bowl. Stir until no lumps remain, then fold in rolled oats, followed by the flour and dried cranberries or cherries. Divide into thirty 1-ounce portions with a roughly 2-tablespoon scoop and arrange on prepared baking sheets. Let stand at room temperature for at least 25 minutes, no more than 75.
Bake until pale gold around the edges, but still puffed and steamy in the center, about 15 minutes. Cool directly on baking sheets until firm, about 10 minutes. Enjoy warm, or store in airtight container up to 3 days at room temperature.
Menu Categories
Additional Information