Submitted by food_0444 on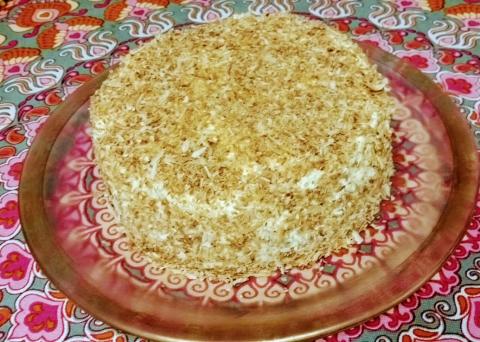 Taken from King Arthur Flower's website -- Link below: Made partially from coconut flour, this delicious cake is pound cake-like in texture, and packed full of flavor and protein. Frosted with a light-as-air whipped mascarpone cream, it's a great dessert for any occasion. Not only that, it can easily be made gluten-free by substituting our Gluten-Free Measure for Measure Flour for the all-purpose flour.
Ingredients
Cake
2 cups King Arthur Unbleached All-Purpose Flour or Measure for Measure Flour
1 tablespoon baking powder
1 teaspoon salt
12 tablespoons unsalted butter
1 1/2 cups sugar
1 cup coconut flour
2 tablespoons vanilla extract
1/2 teaspoon coconut flavor
6 large eggs
1 3/4 cups milk
Frosting
2 cups heavy cream
2/3 cup confectioners' sugar
4 teaspoons Instant ClearJel
1/4 to 1/2 teaspoon coconut flavor
1/2 cup mascarpone cheese
3/4 cup toasted coconut
Directions
Directions
To make the cake: Preheat the oven to 350°F. Grease two 8" cake pans.
Whisk together the all-purpose flour, baking powder, and salt; set aside. In a large mixing bowl, beat together the butter, sugar, and coconut flour until well blended, 2 to 3 minutes.
Mix in the vanilla and coconut flavor. Add the eggs one at a time, mixing well between each addition.
Add the flour mixture and milk alternately, starting and ending with the flour. Scrape the bowl and mix once more, to fully combine. The batter will look a little curdled; that's OK.
Divide the batter evenly between the pans. Smooth the tops with a spatula. Bake the cake for 38 to 42 minutes, or until the edges are just beginning to pull away from the sides of the pan, and the top is lightly golden. A toothpick inserted in the center will come out clean.
Remove the cakes from the oven and allow them to cool for 5 minutes. Run a spatula or knife around the edges, then turn them out onto a rack to cool completely.
To make the frosting: Beat the heavy cream until medium peaks form. Whisk together the confectioners' sugar and ClearJel, and slowly add to the whipped cream along with the coconut flavor. Gently whisk in the mascarpone by hand until the frosting is thick and creamy, trying not to over mix.
To assemble: Place one layer on a serving plate. Spread with 1/4 of the whipped cream frosting. Place the other layer on top; spread the top and sides with the rest of the frosting, piping decorations if desired. Sprinkle toasted coconut over the top and sides.
Refrigerate until ready to serve; store any leftovers in the refrigerator.
Menu Categories
Additional Information
Wait to frost until cake is cool.
Links