Submitted by food_0444 on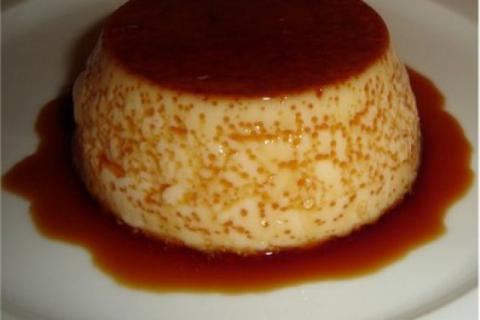 Ingredients
For the caramel
6 tablespoons of sugar
1 tablespoon of water
For the flan
6 eggs
6 tablespoons of sugar
4 1/4 cups of milk
1 flan mold with lid
Baking dish for bain marie
Directions
Preheat oven to 350 F.
Melt sugar in a nonstick pan, add sugar and tablespoon of water and stir until you achieve a liquid caramel that is slightly toasted. If the caramel is too dark it will sour the flan. Pour into your flan mold and coat the lower walls of the mold with caramel. Set aside.
Briskly mix 6 eggs and 6 tablespoons of sugar until it foams. Pour over and mix in the 4 1/4 cups of milk.
Slowly pour into flan mold and cover.
Put flan mold into baking dish and put baking dish in the oven. Fill baking dish halfway with hot water. Bake in ban marie for one hour.
After one hour take out flan from the oven and open the lid; test for doneness. If the flan is still not cooked bake for an additional 15 minutes.
Let it cool at room temperature. Un-mold the next day by turning the mold over a deep plate and enjoy!
Menu Categories
Regional Cuisine
Tags
Links