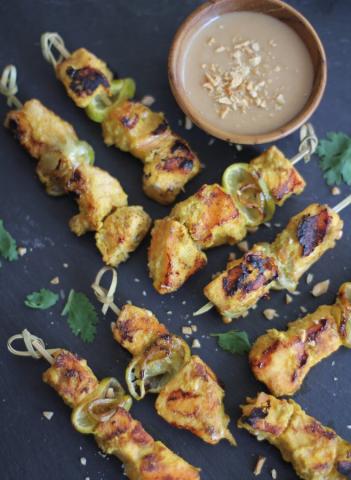 If you like salmon like we do you are probably looking for alternative ways to cook it. Well here is a tasty twist on the chicken satay with ingredients you can probably find in your pantry. This is an adaptation of 2 recipes we found online from 2 creative recipes which we link to below. Feel free to try your own experiments. This dish goes very well over a simple with white rice.
Ingredients
SALMON SKEWERS:
Ingredients:
1.5 lbs Wild Salmon -- skinless
2 Limes --thinly sliced
Marinade:
1 1/2 Tbsp Sesame Oil
3 Chopped Scallions (or chives, shallots, onion)
1 C Peanut Butter
1 Tbsp Sriracha Sauce
1 Serrano Pepper thinly sliced crosswise in circles with seeds (this will give it an extra kick, you can omit)
1/4 - 1/2 Water to make the sauce a bit more liquid
1/4 C Soy Sauce
For cooking:
3 or 4 wooden skewers soaked in hot water for 1 hr.
PEANUT SAUCE
Ingredients:
1 Tbsp Grated Ginger (we used powdered ginger)
1/4 C Soy Sauce
1/2 tsp Pepper
1 Tbsp Sriracha Sauce (you can use 1 tsp red pepper flakes)
1/4 C Orange Juice
1 Tbsp Lemon Juice
3 Finely Chopped Scallions (or chives, shallots, onion)
3/4 C Peanut Butter
Directions
Make the marinade for Salmon: Mix all ingredients in bowl except limes and salmon, transfer to plastic bag. Clean the salmon strip the skin and pull any bones, cut into 1 inch thick cubed and transfer to plastic bag marinade. Let rest for 15 - 30 minutes. While you make the Peanut Sauce. Mix peanut sauce ingredients in a bowl, sprinkle with crushed peanuts if available. Over a plate make the skewers placing a slice of lime between each piece of salmon. Grill on each side for 1 - 3 minutes. Let rest for 5 min before serving.
Additional Information