Submitted by food_0444 on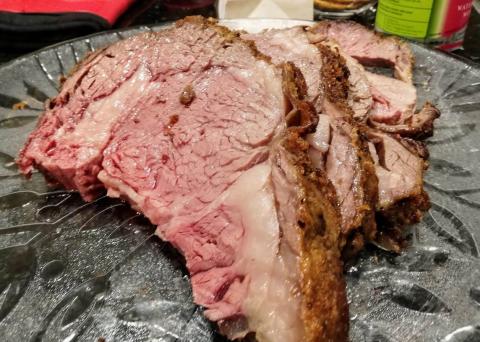 We make this bone in Prime Rib for Christmas or New Year. I personally love Prime Rib. There is something about the tender and juicy eye, crispy fatty crust and saltiness of Prime Rib. The fat factor, the au-jus, pure umami, mallard, deliciousness that all meat lovers crave. I've tried this dish many different ways but the key ingredient besides the cooking method has to be the Lawry's Seasoned Salt and Pepper. I will sprinkle some pepper and seasoned salt all around, even onto the bones (not inside between the bones and the meat); then, after standing the roast on the rack, I will use almost all the remainder of the salt on the fatty cap of the prime rib. I sprinkle it with the salt until there is a crust of at least a millimeter thick (that's about 1/32 of an inch). This has always resulted in an exceptionally well seasoned roast. Yes, I admit, more on the salty side around the perimeter but that saltiness cuts through the fat. It is perfectly balanced in the center, not overpowering. The worst thing you can have on meats aside from dryness is not enough salt. This cooking method is based on Kenji Lopes Alt's book The Food Lab.
Serve with our Au Jus.
Ingredients
Standing Prime Rib Roast (4 bones minimum)
Lawry's Seasoned Salt and Pepper
Directions
Start early in the day. I mean early. At least 6 - 7 hours before dinner.
Preheat oven to lowest possible temperature, 150F.
You can cut the bones then secure with twine or leave whole.
Season the roast as per description above and set onto a rack in a large roast baking pan. I use a pan that has tall sides, not a cookie sheet pan.
Roast until thermometer registers 120F for medium rare, 135F for medium. In a 150F oven this will take 6 1/2 to 7 1/2 hours, in a 200F oven it will take from 4 1/2 to 5 hours.
Remove roast from oven and tent tightly with foil. Place in warm spot in the kitchen and allow to rest at least 30 min and up to 1 1/2 hours. Meanwhile heat oven to highest temp possible 500 - 550F.
Ten minutes before guests are ready to be served remove foil and roast until top is crispy, 6 - 10 minutes.
Remove from oven and set on cutting board. Remove the ribs (I save the ribs for the next day or same day, douse them with BBQ sauce then roast them for additional hour on low encased in aluminum foil) and cut the prime rib as per guests instructions, thicker, thinner, the edges will be a bit firmer, the center less cooked, etc.
Serve immediately.
Menu Categories
Regional Cuisine
Tags