Submitted by food_0444 on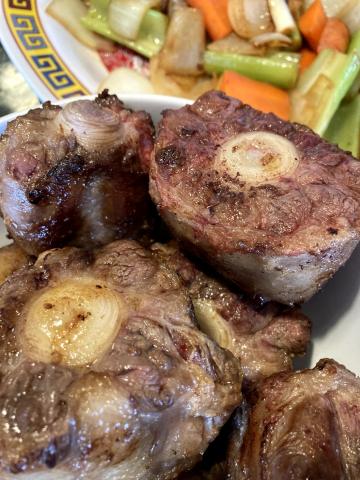 This recipe is an adaptation from Kenji Lopez Alt's book The Food Lab for the Prime Rib. Here is that Serve with our recipe..
Ingredients
Oil
3 lbs Oxtails
1 large carrot chopped
2 celery stalks, chopped
1 large onion, chopped
1 bottle of red wine
2 bay leaves
4 sprigs of thyme
4 stems of parsley
4 cups of chicken stock
salt and pepper to taste
Directions
Brown oxtails in a deep Dutch oven, remove and save.
Lightly brown vegetables, remove and save.
Add the wine and deglaze and cook until alcohol evaporates and liquid is reduced to half.
Add oxtails, chicken stock, thyme, and bay leaves bring to a simmer and partially cover.
Cook for 3 hours then incorporate vegetables and parsley, and cook for an additional half an hour.
Remove oxtails and let cool, save oxtail meat to use later as appetizer warmed with au jus over bread with Maldon salt.
Strain liquid with fine mesh strainer, skim fat.
Before use reduce further until desired flavor, season with salt and pepper.
Menu Categories
Regional Cuisine
Tags