Submitted by food_0444 on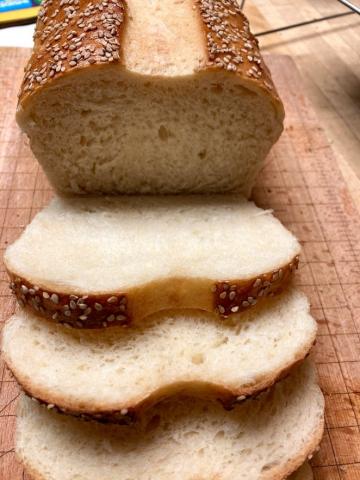 This is variation 2 from Peter Reinhart's - The Bread Baker's Apprentice. I regularly bake this bread to have at home instead of buying box bread. I use un-hulled sesame seeds for garnish over the egg wash.
Ingredients
539g Unbleached flour
11g Salt
42.5g Sugar
6g Instant Yeast
1 (47g) Egg lightly beaten room temperature
4 Tbsp (57g) Butter or oil (4 Tbsp)
11/2 Cup (340g) Buttermilk
Directions
Mix dry ingredients. Add liquid ingredients until dough forms, soft, supple, and tacky but not sticky. Knead for 5 to 7 min until it passes the windowpane test and temperature reaches 81F.
Ferment at room temperature for 1.5 to 2 hours until doubled in size.
Remove and divide:
Half for sandwich loaves approximately 455 g each
18 Dinner rolls into 57 g each
12 Burger buns or Hot Dog buns 85 g each
Bench rest covered for 20 minutes.
Shape.
Proof covered for 1 to 1.5 hours.
Wash and garnish. Score box bread and rub oil in the cut.
Bake Bread loaves at 350 F for 35 to 40 min turning once at 17 min.
Bake at 400 for rolls and buns.
Tops should be golden brown and sides, internal temperature should be close to 190 F.
Cool box bread for 1 hour. Rolls and buns at least 15 min.
Menu Categories
Regional Cuisine
Tags