Submitted by food_0444 on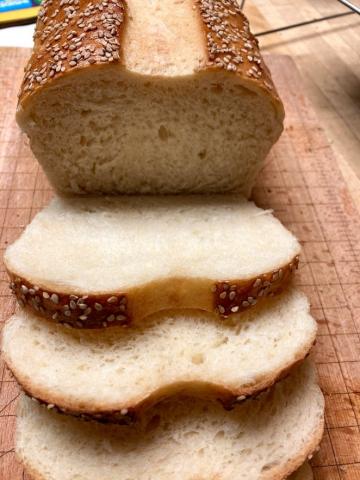 This is an adaptation from variation 2 from Peter Reinhart's - The Bread Baker's Apprentice. I sometimes bake this bread to have at home instead of buying box bread. I use un-hulled sesame seeds for garnish over the egg wash.
This is a super easy recipe and very forgiving in the margin of dough consistency. Use a kitchen scale and a Kitchenaid.
Flour to water ratio
Regarding ratio of flour to water, there are small variations with egg size and flour dryness so you may need to adjust for your conditions. You can always add a little more flour if your dough is sticking too much or a little more liquid if the dough is too dry. Better to err on the wet side since it is easier to incorporate flour than water into the dough.
Yeast
Use Saf-instant (Red Label) Instant Yeast for this recipe. It is the best yeast for baking, period. Does not have to be activated with warm water, you just mix it with the rest of the ingredients and are ready to go.
Buttermilk
I never buy buttermilk. I always make my own using vinegar. Some recipes recommend lemon, but I have found white vinegar gives you a less bitter and more consistent buttermilk each time. I use 1 tbsp of white vinegar to 1 cup of milk, then wait 10 minutes.
Heavy cream
The other day I ran out of milk and substituted 1/2 a cup of milk for heavy cream before making my buttermilk and the bread turned out spectacular. I do this now.
Butter and Oil
I only use butter, you can use a little less if you prefer, oil does not have the same taste although you can use whichever oil you prefer. I generally cut the butter into cubes then melt in a pan.
Special Equipment
Kitchenaid
You can mix by hand or use your Kitchenaid with the dough arm. I always use the Kitchenaid.
Loaf Pan
I love the 1 lb USA Pan Loaf it is great for this recipe, and you will love using it for other breads as well. It is easy to find anywhere, and it is worth the price.
Canola (or other) Oil Spray
Use canola oil spray instead of extra flour for preventing the dough from sticking to the proofing bowl and counter. Adding flour at later stages changes the consistency of the bread and flavor. You can also coat the surface with canola oil with your hand or a paper towel.
Kitchen Scraper
Use a kitchen scraper plastic and/or metal to help you shape the loaf if needed.
Ingredients
539 g Unbleached flour
11 g Salt
42.5 g Sugar
6 g Instant Yeast (use Saf-instant red label)
1 (47 g) Egg lightly beaten room temperature
4 Tbsp (57 g) Butter or oil (4 Tbsp)
1 1/2 Cup (340 g) Buttermilk (make buttermilk as described above)
Directions
Mix your milk and heavy cream as described above and add vinegar to make buttermilk. Cut your butter and melt over the stove. Set up your Kitchenaid with the dough hook. Take the bowl out and put over a scale. Measure all dry ingredients on the scale and into the bowl: flour, sugar, salt, yeast. Mix to combine with a hand whisk or fork. Make a nest in the middle and crack the egg into the bowl. Return the bowl to Kitchenaid begin mixing at low speed. Add melted butter from the pan, add buttermilk slowly to mix until desired consistency is achieved, you should have a soft, supple, and tacky but not sticky dough. Knead for 5 to 7 min or more depending on room temperature, until it passes the windowpane test and temperature reaches 81 F. You may proof the dough in the same bowl if you do use a plastic scraper to remove when ready to divide and bench rest. You may use a separate bowl to proof, if so, spray/coat the bowl with canola oil before adding dough to prevent sticking.
Ferment at room temperature for 1.5 to 2 hours until doubled in size. Cover with plastic wrap to avoid the dough from drying out.
Remove dough onto a slightly oiled kitchen counter and divide:
Look at this video on how to shape into ball after you divide:
https://youtu.be/hWXA8xFYu9A
Half for sandwich loaves approximately 455 g each, for dinner rolls and buns see below.
After dividing shape into a ball gently rolling the dough to remove any large air pockets. Cover with plastic wrap and use oil spray or a little flour to prevent the dough from sticking to the plastic wrap.
Add more oil spray if needed to prevent sticking. Bench rest covered with plastic wrap for 20 minutes.
Spray/oil your loaf pans.
Shape.
Look at these videos for tips on shaping a loaf:
https://www.youtube.com/watch?v=wx5I5O_RoeI
https://www.youtube.com/watch?v=6zW9LX9ALSI&t=644s
Don't worry if your dough doesn't look like the one in the videos.
Proof covered for 1 to 1.5 hours.
Wash and garnish. Score box bread and rub oil in the cut.
Bake Bread loaves at 350 F for 35 to 40 min turning once at 17 min.
Tops should be golden brown and sides, internal temperature should be close to 190 F
Remove bread from loaf pans immediately and cool in a wire rack for 1 hour before cutting or bread will collapse.
Dough can be used to make dinner rolls or buns.
18 dinner rolls into 57 g each,
https://www.youtube.com/watch?v=gWicEfKQmUc
12 burger buns or hot dog buns 85 g each.
Bake at 400 for rolls and buns. Let rolls and buns rest at least 15 min.
Menu Categories
Regional Cuisine
Tags