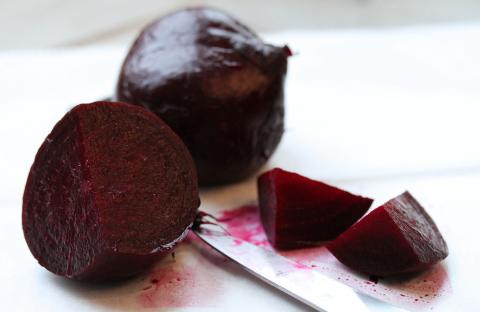 Description
Roasted beets are delicious and easy to make. They go well with salads, meat, and alone as a quick snack. Just add a little olive oil, salt and a squeeze of lemon.
Ingredients
1 T
Olive Oil (Extra Virgin)
1 pn
Pepper (Freshly Ground)
Instructions
Preheat oven to 400 degrees F.
Trim the top end of each beet, then roll it in a puddle of olive oil. Season each with salt. Wrap the beets individually in aluminum foil, place on a baking sheet, and bake until they are easily pierced with the tip of a knife, about 1 hour. Remove from the oven. When cool enough to handle*, remove the skins. Slice and season to taste. The beets can be roasted ahead of time and the refrigerated. Keep them wrapped in foil and bring to room temperature before using.
Notes
* I usually put the beets in the freezer for a few minutes to be able to peel them quickly.
Tags
Recipe type
Cuisine

Export to: