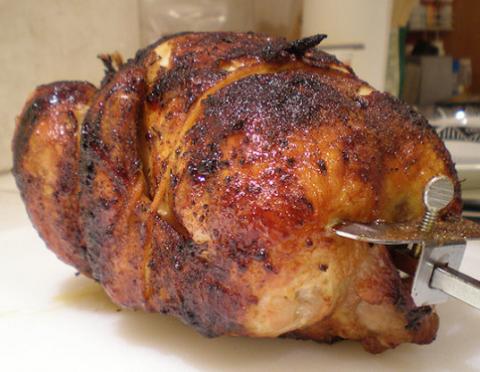 This is an adapted version of Rotisserie Chicken from food.com. We've tried many-a-rotisserie-chickens and were always wary of the "chicken spices" because of all of the chemicals and artificial flavors. Use salt and pepper and get a bland chicken. The secret here, besides getting a fresh roaster chicken from your butcher --a roaster has more fat and weighs between 2 1/2 - 5 pounds, and is up to 8 months old--, is putting about a tablespoon of coarse salt inside the main cavity of the bird before cooking and stringing the chicken up the way that the attached video describes (see video below). Do this and you will achieve a beautiful and flavorful Rotisserie Chicken!
Ingredients
1 roasting chicken
1 teaspoon salt
1 teaspoon roasted black pepper
1 teaspoon chili powder
1 teaspoon garlic powder
1 teaspoon onion powder
1 teaspoon dried thyme
1 teaspoon sugar
2 teaspoons paprika
olive oil
Directions
Mix spices, set aside. Use the best chicken you can find. Butchers usually can provide higher quality chickens than the supermarket. Remove the giblets from chicken. You can put those in a pot with olive oil to brown deeply with half an onion, celery, carrots, then add water and simmer for a delicious broth. Wash chicken inside and out, drying with paper towels / we ran out of paper and used a cloth towel to be washed immediately like the good old days. Rub chicken with a little olive oil.
Truss the chicken following the instructional video below. Set chicken on a large plate. Sprinkle spices making sure you cover front and back. Cover plate with Cling Wrap (saran). Marinate in the refrigerator 4 to 24 hours. Put chicken onto rotisserie. Depending on your rotisserie the chicken needs to cook from 1 1/2 to 2 1/2 hours. Chicken is done at 160 when it is no longer pink and juices are not thick.
Menu Categories
Regional Cuisine
Tags
Additional Information