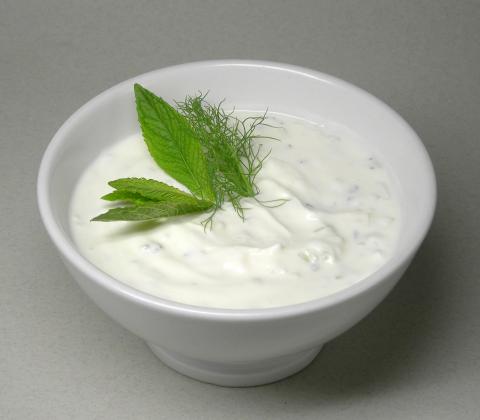 This cucumber and yogurt salad goes well with chicken, beef, lamb, just about anything!
Ingredients
4 small cucumbers or 1 large one
salt
2 C plain whole-milk yogurt
2 garlic cloves, crushed (optional)
2 sprigs of finely chopped mint or dill, or 2 teaspoons dried crushed mint
Directions
Peel and dice or grate the cucumbers, or cut them in half lengthwise, and then into half-moon slices. Unless salad is to be served immediately, sprinkle with salt and leave for 1/2 to 1 hour in a colander for the juices to drain. Beat the yogurt in a serving bowl with the crushed garlic, if using, and the mint or dill, and fold in the cucumber. Add a little salt, taking into account the saltiness of the cucumber if you have salted it, although most of the salt will have gone with the drained juices.
Menu Categories
Regional Cuisine
Tags
Additional Information
Additional notes from the author: [...] If possible, use the small cucumbers sold in the Middle Eastern and Asian stores [...]. Cacik [Cucumber and Yogurt Salad] is served as part of a meze and also as a side dish --to be eaten with spoons from little individual side bowls-- to accompany pies, meat dishes, and rice. It even makes a lovely cold summer soup. Use plain whole-milk yogurt. Adapted from Claudia Roden's "Arabesque".
Links