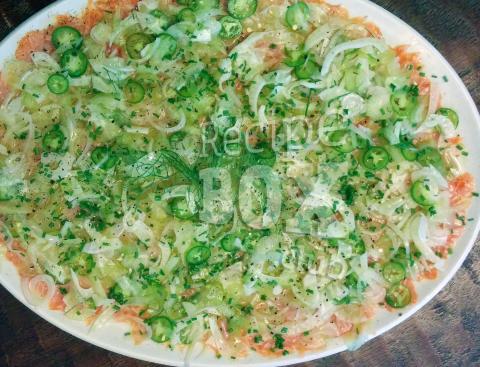 If you love salmon season but are tired of the same preparations or are in the mood for something fresh, you will want to give this delicious recipe a try. The secret to this recipe is finding fresh wild Atlantic salmon and slicing the salmon very thin and against the grain. It also helps if you have a mandolin and that you use it to slice the vegetables very thin, about 1/8 of an inch.
Ingredients
Marinade:
thinly sliced fennel
thinly sliced celery
thinly sliced shallots
thinly sliced Serrano peppers
3 limes for about 1/4 cup freshly squeezed lime juice
1 1/2 teaspoons sea salt
6 - 7 tablespoons extra virgin olive oil
Other:
1 pound Wild Alaskan salmon fillet skin on
reserve 1 extra lime
freshly ground black pepper
chopped chives
Directions
Assemble the dish at least 1 hour before serving. Mix all the marinade ingredients. Wash and dry the salmon. With a pair of tweezers pull the bones on the spine of the salmon filet. Squeeze and rub the juice of the extra lime on the surface of a large, flat serving dish. Proceed to slice the salmon with a long and very sharp knife to get very thin carpaccio style slices as described in the video below. Arrange the slices in one layer over serving dish. Slowly, pour the sauce over the salmon spreading it around to cover it and arranging the vegetables so that they are evenly distributed. Sprinkle the chopped chives and grind a good amount of black pepper. Cover and keep refrigerated until ready to serve.
Additional Information