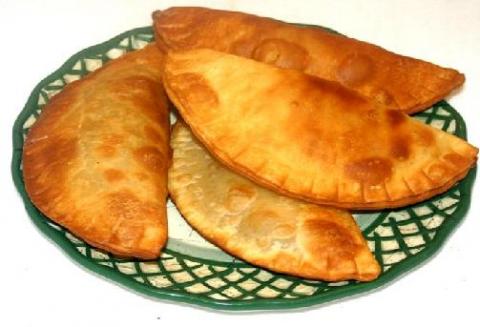 Description
These were the traditional empanadas cooked for Christmas and New Year.
Instructions
Dough
Make a well with the flour and then add the soft butter mixing until it is completely incorporated, then add the salt, the baking powder the eggs and you knead it with the tip of your fingers until the dough is sticky, then slowly add the milk. The dough will break as soon as you add the milk so you cannot stop kneading it either with your hands or with the mixer.
Once you added all the milk you test it to see if it is ready. This test consists in extending the dough with the rolling pin. If the dough shrinks back you need to add more milk regardless if it is more than the 250ml until the dough does not shrink when stretched.
Put a bit more milk in the dough and then cut the empanadas, Put the filling inside, fold and secure the edge pressing together with the tip of a fork. Then fry in oil.
Sometimes it takes a while to find the right consistency of the dough.
Tuna Filling
Very simple to prepare, fry the onion, add the chopped garlic and the tomato. Then add the canned tuna, tomato pure. As soon as the puree has reached a boiling point, add the olives or the frozen vegetables. Leave alone for 5 minutes or until the vegetables are cooked through. Adjust the flavor with salt and pepper to taste.
Notes
You may also make the filling for the Empanadas using a combination of frozen vegetables with peas and carrots to add a sweet touch or also add chopped black or green olives.
Tags
Recipe type

Export to: