Submitted by food_0444 on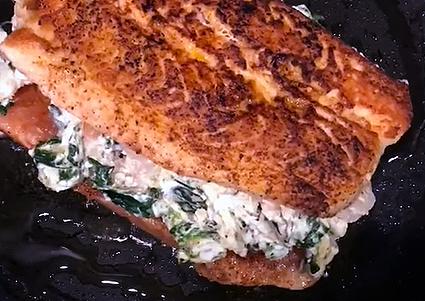 Delicious and simple recipe when you have cooked shrimp and salmon!
Ingredients
2 pieces of salmon
4 ounce cream cheese - half a block
1 cup precooked shrimp chopped
1/2 cup frozen spinach - rinsed and squeezed dry
1/4 cup chopped cooked bacon
1/5 cup Parmesan cheese
Blackened seasoning or Creole or Cajun Seasoning
2 tablespoons of butter
Lemon
Directions
Preheat oven to 350.
Remove salmon skin and rinse. Pat dry. Rub with oil and season with salt, pepper and blackened spices. Set aside.
Fry the bacon in an iron skillet.
Mix cream cheese, Parmesan, chopped shrimp, chopped bacon, and spinach in a small bowl.
Press mixture onto one of the salmon pieces, put other piece on top. Make sure stuffing does not overflow.
Drip some of the bacon oil out of the pan, add some butter and fry stuffed fish about 1.5 min to sear, turn carefully using 2 spatulas so the stuffing stays in the middle. Sear other side. Drop butter into pan and ladle over fish. Bake for 15 - 20 min. Serve with lemon slices.
Menu Categories
Regional Cuisine
Tags