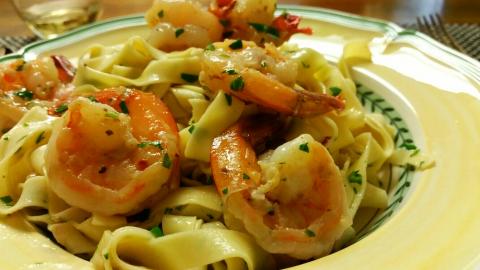 Ingredients
12 oz. fetuccini ( we used 4 oz semolina + 4 oz all purpose flour and 2 eggs to make fresh fetuccini)
4 Tbsp. butter
4 Tbsp. extra-virgin olive oil, more to drizzle
1 large shallot, finely diced
2 cloves garlic, microplaned
Pinch red pepper flakes
1 pound shrimp, tail-on peeled and deveined
Kosher salt and freshly ground black pepper
1/4 cup chardonnay
Juice of 1 lemon
1/4 cup finely chopped parsley leaves
1 laurel leaf.
Directions
Place a pot of water to boil for the pasta and add salt, a splash of olive oil and a laurel leaf. Put about 2 tablespoons of oil in a 12 inch pan over high heat and add the garlic and finely diced shallot. Once it begins to sizzle add a pinch of pepper flakes and cook until soft. Salt and pepper the shrimp and add. Cook until pink on both sides. Do not overcook! Place shrimp on a separate bowl. Cook the pasta. Add the wine and lemon juice to the pan. Heat to a boil and de-glaze. Remove from the heat and add 3 - 4 Tbsp of butter. Set aside and whisk until butter is melted. Incorporate the cooked shrimp and juices to the pan. Drain the pasta (reserve 1/2 cup of pasta water to use in sauce if needed) and add to pan. Sprinkled parsley and serve immediately.
Menu Categories
Regional Cuisine
Additional Information
This recipe was adapted from the Food Network Shrimp Scampi link below.
Links