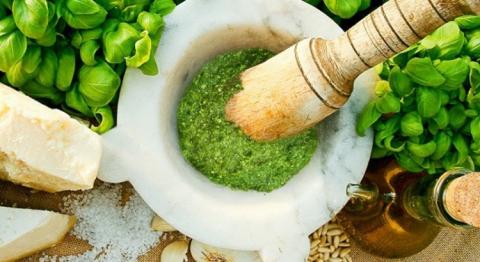 We use our own basil grown in our garden. We got the seeds from Baker Creek. This basil is incredibly aromatic and spicy and makes the best pesto I've ever tasted. Link in the description below. Whichever way you go with this make sure you use enough olive oil to lighten the paste.
Ingredients
4 medium cloves garlic
Generous pinch coarse sea salt
3 ounces Genovese basil leaves (from about a 4-ounce bunch)
2 tablespoons (30g) pine nuts
2 1/2 tablespoons (1 ounce) grated Parmigiano Reggiano
2 1/2 tablespoons (1 ounce) Pecorino Fiore Sardo (see note above)
1/2 cup plus 2 tablespoons (150ml) mildly flavored extra-virgin olive oil
Directions
Directions for mortar and pestle:
Using a mortar and pestle, combine garlic and sea salt and grind to a paste.
Add basil leaves, a handful at a time, and grind against the walls of the mortar; it's easier to use a circular grinding motion than to try to pound the leaves with the pestle. Continue until all basil leaves have been crushed to fine bits and have released their green liquid.
Add pine nuts and gently crush with pestle, then work into a paste with basil and garlic.
Add both cheeses and continue to use pestle to grind into a paste.
Slowly drizzle in olive oil, working it into the pesto with a wooden spoon until incorporated.
Directions for food processor:
Add garlic, sea salt and enough oil to form a paste.
Add basil leaves, a handful at a time, if necessary add a little more oil to form a uniform paste.
Add half cheese rinds if using.
Add pine nuts.
Add rest of the cheese.
Add olive oil in stages.
Pesto can be served with pasta right away, or transferred to a jar or container, covered with a small layer of olive oil, sealed, and refrigerated overnight.
Menu Categories
Regional Cuisine
Tags
Additional Information
Links