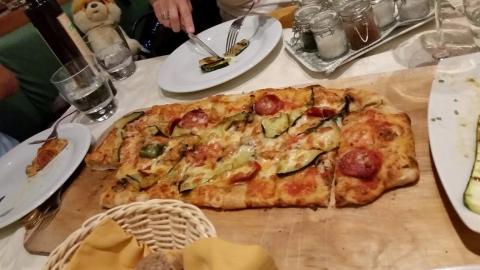 This is a no yeast pizza dough.
Yield: Dough for 4 12-inch pizzas or 5 9-inch pizzas
Peter Reinhart, author of "Artisan Breads Every Day" and "American Pie," said a 24-hour wait will improve any dough: take your favorite recipe, let it sit overnight, then enjoy the upgrade. Mr. Reinhart recommends letting the dough rise at room temperature for three hours, then refrigerating it.
Ingredients
8 ounces sourdough starter
10 ounces 00 flour such as Divella or King Arthur Italian Style (about 2 cups)
6 ounces high-gluten flour such as King Arthur Sir Lancelot (about 1 cup plus 1 tablespoon)
1/2 ounce salt (about 4 teaspoons)
Additional flour, for dusting
Directions
Using your fingers, break the starter dough into 1-inch pieces in a bowl and mix with 1 cup room temperature water until soupy and chunky. In the bowl of a stand mixer, combine the flours and salt, then add the starter and water. Mix with a wooden spoon until the dough begins to bind, then let rest for 5 minutes. Using the dough hook, knead on the mixer's second-lowest setting for 5 to 7 minutes, until dough pulls away from the bowl and becomes a smooth ball. Lift dough hook, scraping off any excess dough. Settle a sheet of plastic wrap on the dough, and let rest for 3 to 4 hours.
Cut dough into 4 8-ounce pieces. (For smaller pizzas, divide into 5 6-ounce pieces.) Turn each piece out on a floured surface, folding and kneading three or four times until it becomes a smooth ball. Place each piece in a plastic bin large enough to allow it to double in size, let a sheet of plastic wrap settle on the dough, and cover with a lid. Refrigerate for 48 hours, or at least 24 hours, before shaping and baking.
Menu Categories
Regional Cuisine
Tags
Additional Information
This recipe is a transcript from Oliver Strand's that appeared in the NYT.
Links