Submitted by Emilio Castellanos on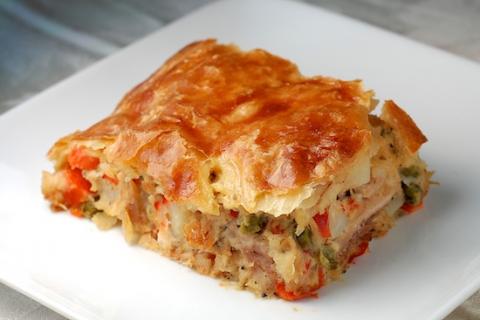 Description
From "Cook Your Meals the Lazy Way": This recipe relies almost entirely on commercial ingredients not least of which is the meat from a rotisserie chicken (or left over chicken meat from another dish), and yet the result is utterly delicious. You'll need a powdered biscuit mix (such as Bisquick) to make the topping. You can usually buy it in small amounts, packaged with just enough for 1 or 2 recipes, if you don't want a whole box-full.
Ingredients
3 c
cooked chicken (from 1 rotisserie or any pre-cooked chicken)
1 c
canned green peas and or carrots
1 cn
cream of celery soup
Instructions
1. Preheat oven to 400C. Roughly chop the chicken meat into cubes. Melt the butter in a small cup in the microwave. If using canned vegetables, open the can and drain, holding the lid over the opening.
2. Put the chicken across the bottom of a 9 x 13 inch glass casserole, and distribute the vegetables over the chicken.
3. In a medium bowl, whisk the condensed soup with the water, and pour over chicken and peas. Using the same bowl, whisk the biscuit mix with the milk and melted butter until smooth. Pour over chicken.
4. Bake for 30 minutes, until crust is lightly browned and the casserole is bubbling around the edges. Cool for a few moments on top of the stove before serving.
Notes
"The amount of butter is probably the secret to why this tastes so good, but the recipe works equally well with margarine. Cream of mushroom can replace the cream of celery, but the celery soup tastes delicious here, without adding an overt celery flavor."
"You can put any canned vegetable in, but peas and/or carrots are the usual ones. You may be able to find them combined in one can, or you can use frozen --just add without thawing."
Additional Notes:
"If you're so inclined"
"If you don't have a rotisserie chicken, the fastest way to get cooked chicken is to poach it. Put a whole chicken into a large saucepan. Cover it with cold water and bring to a boil over medium-high heat. Simmer for 30 to 40 minutes and remove to a plate. Allow to cool before removing the meat."
Final Note:
"Congratulations! You just made a chicken pot pie that's worthy of winning a county bake-off! Light a few candles and pour a couple of glasses of cool white whine while your spouse nips up to the supermarket to buy a few pieces of chocolate torte. Forget about the canned soup in the recipe--you're dining in style tonight!" --The Lazy Way
Tags
Recipe type
Cuisine

Export to: