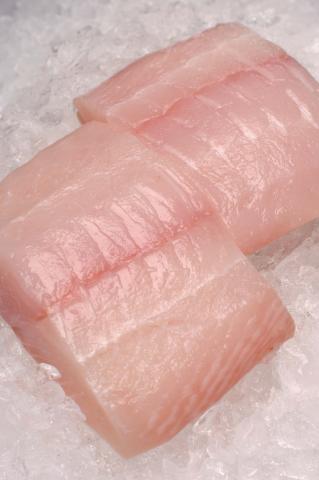 Description
Poaching fish in olive oil gives it a luxe texture. Don't think the fish is going to be oily or greasy as a result because it's not. In fact, poaching --the gentlest form of cooking-- gives the fish a terrific, clean flavor. Halibut is fairly bland, so it needs the flavor intensity that the beets and blood oranges supply.
Ingredients
8
Roasted Beets (Whole, golden)
10 c
Olive Oil (Plus high-quality extra-virgin olive oil, for drizzling)
24 oz
Halibut (Cut into four 6-ounce fillets)
1 pn
Pepper (Freshly ground)
Instructions
Use a chef's knife to slice the tops and bottoms off the blood oranges so they sit flat on a cutting board. Cut the peel away from the flesh in wide strips from top to bottom. Hold the fruit over a bowl (to catch the juice) and cut each segment away from the membrane. Combine the blood orange segments and the roasted beets with the orange juice in the bowl.
In a Dutch oven or stockpot, combine the 10 cups olive oil, rosemary, garlic, chile, and salt. Heat the oil over a medium-high flame to a gentle simmer, then use a slotted spoon to remove the rosemary, garlic, and chile, and discard.
Lower the fish into the oil and cook for 5 to 6 minutes for medium-rare (the way I like it) or 7 minutes for medium.*
While the fish is poaching, place four slices of blood orange on each of four serving plates. Sprinkle with a little sald and pepper.
Use a slotted spoon to transfer the cooked fillets to the serving plates, resting on the blood orange slices. Put four beet halves on each plate. Drizzle the fish and the beets with some high-quality extra-virgin olive oil and a fine sprinkling of salt (Maldon) and freshly ground pepper.
Notes
* This is a tricky recipe mostly because of the poaching of the fish in olive oil. The fillets should be at room temperature before poaching and be careful not to heat up the olive oil too much! Put a corner of the fish in the oil. If it starts frying (you see bubbles and splatter) when you put it in the oil, take it out and let the oil cool a bit. It should not fry in the oil!
Tags
Recipe type
Cuisine

Export to: