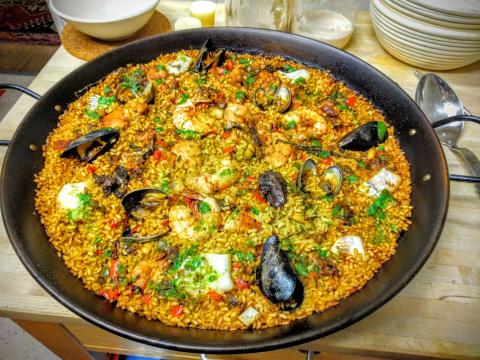 Recipe for Paella Mixta. This is a simple dish but make sure your mis en place is perfect and in order or you may forget a step. It moves very fast once you start cooking.
Ingredients
tomatoes
leek
red pepper
green pepper
onion
peas
green beans
limes
parsley
thyme
rosemary
bay leaves
garlic
pimenton dulce
saffron
chicken
pork
rabbit
mussels
clams
shrimp
calamari
fish stock
chicken stock
rice
olive oil
white wine
Directions
Make a pesto with oil, parsley and garlic and spoon some of it onto the paella after adding the water. Just before the water is absorbed you may add a few more spoonfuls of this pesto to the paella.
Heat the oil, salt and pepper the shrimp, chicken and pork, fry shrimp first until they get some color, set aside on a plate to add at end. Add chicken and pork and fry until browned. Set aside or push to the side of the paella, add any other soft meats after chicken depending on cooking times. Add the cubed calamari, onion and peppers (and other vegetables depending on cooking times if using) cook until they release their flavors, toast some saffron on the side then mix in, make room in the center and add the grated tomato and cook for a few minutes. Add the rosemary, thyme and bay leaf (add the white wine if using and let cook for a minute). At this point you can (1) add the Pimentón and mix then add the broth and let the broth boil then add rice, OR (2) add rice mix well, add Pimentón and mix again, immediately add BOILING broth. Make sure rice is distributed evenly throughout the paella during this time and that it is under the water. Arrange the mussels, clams, shrimp and lastly the fish. With the paella set to high heat, cook for 10 minutes, regulate heat afterwards to cook remaining paella. Depending on broth and rice cooking time wait to form the "socarret" after water is absorbed. Cover and let stand for 5 minutes before serving.
Menu Categories
Regional Cuisine
Tags
Additional Information
Use 2:1 water to rice. Or depending on your rice you may need a bit more broth. Add salt to taste. After adding the Pimentón it is important to not let it burn or it will sour the paella. Meats should be cut to bite size pieces.
Arrange the lemon slices on the sides of the paella to serve.