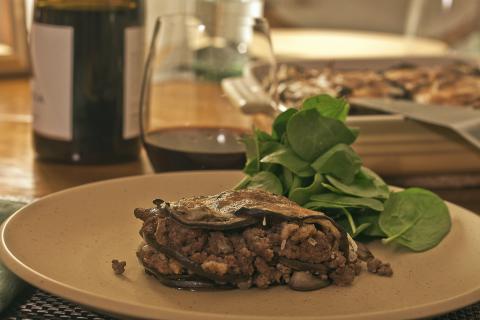 Description
Moussaka is an eggplant based dish of the Balkans, Eastern Mediterranean, and the Middle East. The best known variation outside the region is the Greek one.
Ingredients
1 c
Grating cheese ((Asiago, Manchego, Cheddar, Pecorino) shredded)
Instructions
Top and tail the eggplant, without peeling them. cut them into thin slices and immerse them in salted water, for 30 minutes.Take them out, squeeze gently, rinse, then squeeze them again. Drain them in a colander and pat dry. Fry them in hot vegetable oil until they become pale golden on both sides; you can either deep-fry them, which is easier but they absorb a lot of oil, or shallow-fry them. In either case, drain them on absorbent paper on a flat platter before serving,
Sautee the the meat in 2 tablespoons vegetable oil until all the lumps are broken down and the meat starts to change colour. Add the chopped onion and garlic to the meat and sautee together. Add tomatoes chopped in brunoise (small cubes), black olives, the spices, salt and pepper. Cover and cook for 20 minutes, stirring from time to time in case it sticks. Then mix in half cup of bread crumbs and set aside.
To assemble, cover the base of a squared baking dish with fried eggplant, then spread half of the meat mixture evenly on top of them and cover neatly with more eggplant. Spread the remaining meat cover with more eggplant. Sprinkle the cheese all over the top, and the remaining breadcrumbs. Bake in a pre-heated oven, 350 grades ºF/ 180 grades ºC, until a golden crust is formed all over the top
Recipe type
Cuisine

Export to: