Submitted by Emilio Castellanos on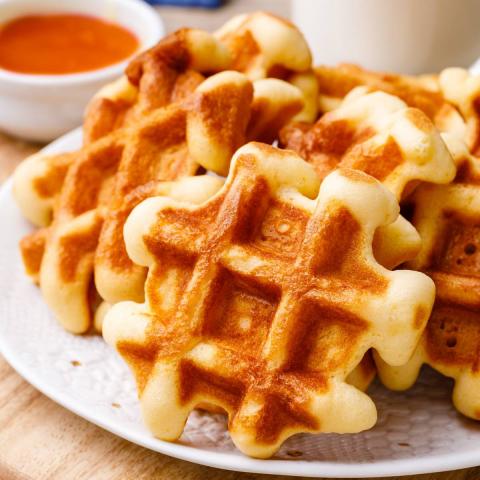 Ingredients
1 3/4 cup all-purpose flour (see Cook's Note)
2 tablespoons granulated sugar
1 3/4 teaspoon baking powder
1/4 teaspoon baking soda
1/4 teaspoon kosher salt
1 3/4 cup well-shaken buttermilk
2 large eggs
2 teaspoons vanilla extract
1 stick unsalted butter, melted and slightly cooled
Nonstick cooking spray
Maple syrup, jam, berries or yogurt, for serving
Directions
Preheat a waffle iron to medium-high.
In a large bowl, whisk together the flour, sugar, baking powder, baking soda and salt.
In a medium bowl, whisk together the buttermilk, eggs and vanilla. Whisk the buttermilk mixture into the flour mixture until a batter is formed. Whisk in the butter until incorporated, being careful not to overmix the batter.
Spray both sides of the preheated waffle iron with nonstick cooking spray. Pour in enough batter to lightly cover the surface of the iron, about 1/3 to 3/4 cup, depending on its size. (Take into consideration that the batter will spread once the lid is closed.) Close the iron and cook until the waffles are a deep golden brown and slightly crisp, about 5 minutes. Repeat with the remaining batter. (If the waffle iron has a well-seasoned or nonstick surface, it may not be necessary to spray it between each batch.)
Serve the waffles immediately with butter, syrup, jam, berries or yogurt. When measuring flour, we spoon it into a dry measuring cup and level off excess. (Scooping directly from the bag compacts the flour, resulting in dry baked goods.)
Menu Categories
Additional Information
Cook's Note:
When measuring flour, we spoon it into a dry measuring cup and level off excess. (Scooping directly from the bag compacts the flour, resulting in dry baked goods.)
Links