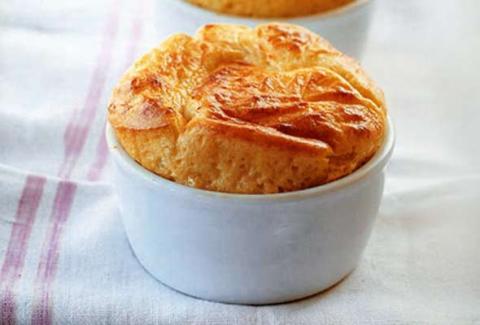 Simple Soufflé. Don't be afraid of Soufflé!
Ingredients
1/2 oz. butter
1/2 oz. flour
1/2 cup of milk
2 oz. Gruyere cheese grated
pinch of cayenne pepper
1 egg yolk
2 egg whites
salt to taste
Directions
Oven at 375 F
Combine flour and butter to make a pale roux, whisk milk to make Béchamel. Simmer for 4 minutes until sour cream consistency. Remove from heat, transfer to clean bowl, beat egg yolk, stir in cheese, add cayenne and salt.
In a clean bowl beat the egg whites with a pinch of salt. Fold 1/3 eggs white into Béchamel mixture then after it is incorporated fold in the rest. Pour into a prepared soufflé dish. Smooth the top with a spatula, run thumb around the rim before baking. Bake for 15 - 20 min.
Menu Categories
Regional Cuisine
Tags