Submitted by food_0444 on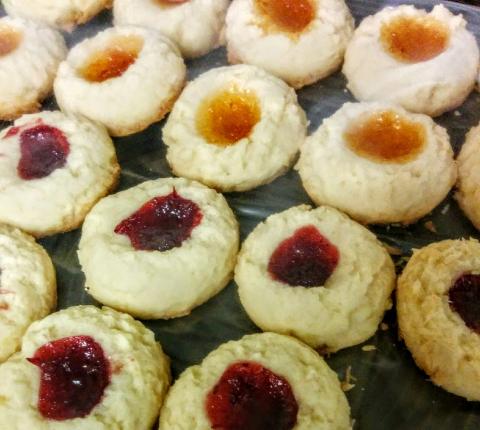 20 cookies. The traditional recipe has an extra dip in coconut but we believe the cookies do not benefit in flavor or texture from this additional step.
Ingredients
8 tablespoons (1/2 cup) unsalted butter, softened
1/2 cup sugar
1 large egg
1 teaspoon vanilla extract
1 1/2 cups King Arthur Unbleached All-Purpose Flour
3/4 teaspoon baking powder
1/4 teaspoon salt
1/2 cup unsweetened shredded coconut
1/4 cup any preserves
Directions
Preheat the oven to 350°F. Line two baking sheets with parchment, or lightly grease.
To make the dough: In a large bowl, beat together the butter and sugar until pale. Beat in the egg and vanilla. Scrape the bowl, then add the flour, baking powder, salt, and coconut. Mix until evenly combined.
To assemble: Scoop the dough by the tablespoonful and roll into a ball. Place the coated balls of dough 2" apart on the prepared baking sheets.
Press a dent in the center of each cookie and fill with 1/2 teaspoon raspberry preserves.
Bake for 15 minutes, until pale golden grown. Remove from the oven and cool on the pan for 5 minutes before transferring to a rack to cool completely.
Store in an airtight container at room temperature for up to 2 weeks.
Menu Categories