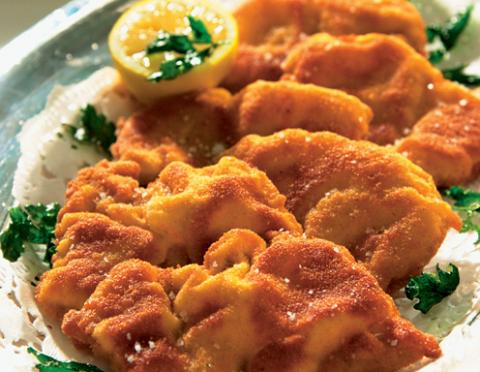 From Wikipedia: "Schnitzel is a traditional Austrian dish consisting of an escalope coated in breadcrumbs and fried. It is a popular part of Viennese and Austrian cuisine. In Austria the dish, called Wiener Schnitzel (Viennese Schnitzel), is traditionally served with a lemon slice and either potato salad or potatoes with parsley and butter."
Ingredients
4 veal cutlets
1 lemon
salt, to taste
1 cup all-purpose flour
2 eggs
2 tablespoons water
2 tablespoons vegetable oil
1 cup fine dry breadcrumb
4 tablespoons vegetable shortening (more might be needed depending on the size of your pan)
lard and a high temperature oil to fry the cutlets
Directions
Place veal cutlets, one piece at a time, between two pieces of plastic wrap and pound until thin, about 1/4 inch thick. Slice lemon in half and squeeze lemon juice over all four pieces of veal. Allow the veal to sit in lemon juice for 30 minutes. Allow excess lemon juice to drip off before breading the cutlets. Sprinkle a pinch of salt over each cutlet. Place flour in a large shallow plate. Beat eggs, water, and vegetable oil in a large shallow bowl. ~NOTE~ The vegetable oil helps to hold the breading on securely and to make the breading crisp. Place breadcrumbs in a large shallow plate. One at a time, dip salted cutlet into the flour and lightly cover each side with flour. Then dip the cutlet into the egg mixture, allowing the excess egg to drip off. Then dredge into the breadcrumb mixture to coat. Place breaded cutlets on a baking sheet and low to stand at room temperature for 30 minutes. Heat lard and frying oil or shortening in a large heavy skillet. There should be enough oil in the pan for the cutlets to "swim". When the oil is hot, place one or two cutlets in the skillet at a time, being careful not to crowd the cutlets. Fry first side slowly until golden brown, about 4-6 minutes. Turn cutlets over with a spatula, being careful not to splatter hot oil. Fry on second side for about 4-6 minutes, or until golden brown. Drain on paper towels. If you have more cutlets to fry, then place finished cutlets in a piece of foil and keep warm in the oven at 250°F while you continue to fry up the rest of the cutlets.
Menu Categories
Regional Cuisine
Additional Information
Make sure to salt the steaks well before breading and just for safe measure add some salt to the egg, and bread crums.
Links