Submitted by food_0444 on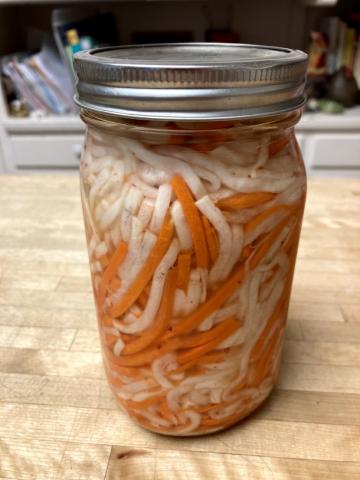 Ingredients
1 pound Korean radish (mu)
1 or 2 carrots
3 tablespoons vinegar (to taste)
2 tablespoons sugar
½ teaspoon salt
¼ teaspoon red chili pepper flakes gochugaru, (finely ground) - optional (see note)
Directions
Clean the radish and carrot by scrubbing with a brush and/or scratching off the stubborn impurities with a small knife. Cut into match sticks. You can use a mandolin if you have one.
Add all the remaining ingredients. Mix well by hand until the sugar is dissolved and the radish is evenly coated with the gochugaru (if using). Taste and add more vinegar or sugar to your liking.
Let sit for at least 30 minutes before serving. It will taste better the next day.
Menu Categories
Regional Cuisine
Tags