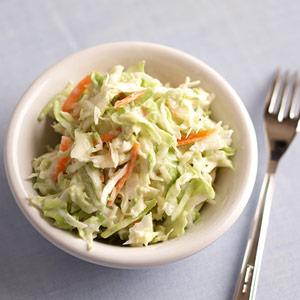 Coleslaw is very easy and inexpensive to make. We use a food processor to make it and add any vegetables at hand.
Ingredients
1 cup mayonnaise
2 tablespoons sugar
2 tablespoons apple cider vinegar
2 teaspoons black pepper
1⁄2 teaspoon salt
1⁄4 teaspoon dry mustard
1⁄8 teaspoon celery seed
5 cups shredded coleslaw mix (cabbage, carrot, onion, bell pepper, etc.)
Directions
Whisk together ingredients for dressing in a non-reactive (non-metal) bowl until sugar dissolves.
Toss with slaw vegetables of choice.
Refrigerate at least four hours.
Toss well before serving.
Menu Categories
Tags