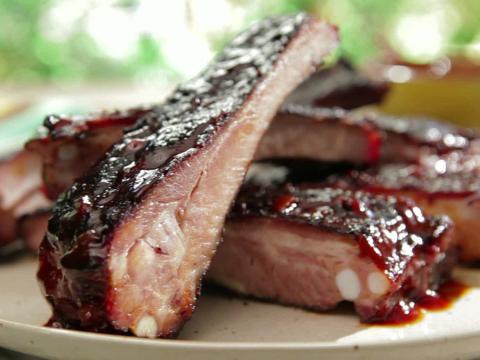 Serve these delicious ribs with watermelon slices and home made coleslaw on the side.
Ingredients
Ingredients for ribs:
2 sides pork baby back ribs or your favorite ribs
1/4 C chile powder (Gebhardt)
1 Tbsp ground black pepper (we use roasted peppercorns, then grind with coffee grinder)
1 Tbsp brown sugar
2 tsp Roasted Chile Ancho & Pasilla Chile Powder (Get these chiles dried from the supermarket. Clean seeds and stems, toast in oven then grind in coffee grinder)
2 tsp Garlic Powder
1 tsp dried thyme
Ingredients for "Carolina Mountain Barbecue Sauce":
1 medium yellow onion
2 tsp olive oil
4 cloves garlic, finely minced
1 C brown sugar
2 C ketchup
3/4 cup apple cider vinegar
1/4 cup thin soy sauce
2 Tbsp Maggi sauce (if not available use soy sauce)
2 Tbsp Worcestershire sauce
1 tsp crushed red pepper flakes
1 tsp dry mustard
1 Tbsp finely minced ginger
Directions
Remove membrane from ribs grabbing edge with paper towel to avoid it to slip, then pull evenly and discard. Pat dry the ribs.
In small bowl combine chile powders (chile, chile ancho and chile pasilla), pepper, sugar, garlic powder, and thyme and mix well. Using fingers rub the mixture over both sides of the ribs. Marinate refrigerated for at least 15 minutes but ideally for up to 24 hours.
For barbecue sauce slice onion into 1/4 inch slices. Place the slices in stovetop smoker and smoke them over hickory sawdust for 10 minutes or grill or broil them until onion is dark and golden. Transfer onion to a saucepan ad remaining barbecue sauce ingredients. Bring to a simmer, reduce heat to low, cover and simmer for 30 minutes. Pour sauce over medium meshed strainer, scraping the sieve with a metal spoon to force all the pulp through the sieve. Makes up to 3 cups. Refrigerate the sauce.
Preheat oven to 300 degrees F. Lay ribs on two layers of foil or one heavy duty foil, shiny side out and meaty side down. Lay two layers of foil on top of ribs and roll and crimp edges tightly, edges facing up to seal. Place on baking sheet and bake for 2 - 2 1/2 hours or until meat is starting to shrink away from the ends of the bone. Remove from oven. Heat broiler. Cut ribs into serving sized portions of 2 or 3 ribs.
Arrange on broiler pan, bony side up. Brush on sauce. Broil for 1 or 2 minutes until sauce is cooked on and bubbly. Turn ribs over. Repeat on other side. Alternately, you can grill the ribs on your grill to cook on the sauce.
To serve, cut each side of ribs in half, into 3 sections. Transfer to serving platter or 4 heated dinner plates and serve at once accompanied by extra sauce.
Menu Categories
Regional Cuisine
Tags
Additional Information