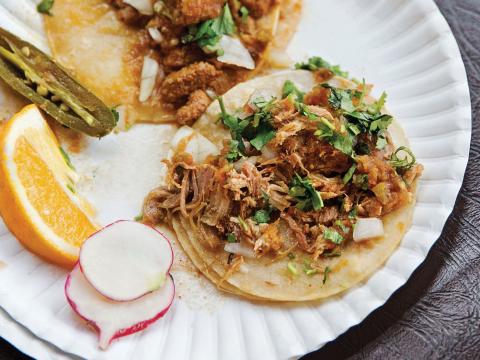 We have made these carnitas many times and always with the same result. They are tender and delicious and a healthier alternative to the traditional fried carnitas. If you want them a little crispier, broil them on high for a few minutes only so they do not dry up.
Ingredients
For the Carnitas
3 tbsp. lard or canola oil
3 lb. skinless, bone-in pork shoulder, cut into 3" pieces (have your butcher do this)
Kosher salt, to taste
3/4 cup whole milk
8 cloves garlic, peeled and smashed
6 canned or jarred whole pickled jalapeños
1/3 cup jalapeño pickling liquid, from above
1 large white onion, roughly chopped
2 limes, juiced
2 oranges, juiced
For the Salsa and Serving
6 tomatillos, husked and cored
3 cloves garlic
2 plum tomatoes, cored
1 canned or jarred whole pickled jalapeño, stemmed
3 tbsp. jalapeño pickling liquid, from above, plus more for serving
Kosher salt, to taste
Corn tortillas, warmed, for serving
Roughly chopped cilantro and thinly sliced radishes, for garnish
Orange wedges, for serving
Directions
Make the carnitas: Melt lard in an 8-qt. saucepan over medium-high. Season pork with salt; cook, turning as needed, until browned, 10–12 minutes. Add milk, garlic, jalapeños and pickling liquid, onion, and lime and orange juices; boil. Reduce heat to medium-low; cook, covered, until pork is tender, about 2 hours. Let pork cool and transfer to a cutting board; chop into bite-size pieces. Strain cooking liquid and return to pan; stir in pork and keep warm.
Make the salsa and serve: Heat a 12" cast-iron skillet over medium-high; cook tomatillos, garlic, and tomatoes, turning as needed, until blackened all over, 12–15 minutes, and transfer to blender. Add jalapeño and pickling liquid, and salt; purée until smooth. Serve carnitas on tortillas with salsa; garnish with cilantro and radishes. Serve with more pickled jalapeños and the orange wedges.
Menu Categories
Regional Cuisine
Tags
Additional Information
Image credit SAVEUR magazine. Link to original recipe below.
Links