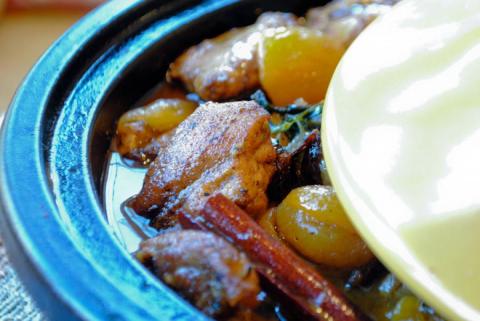 This recipe seems simple but because of its many ingredients and prep time ends up taking over 2 hours prep and cook times, however it is well worth it.
Ingredients
1 teaspoon ground cinnamon (more or less depending on strenth of cinnamon powder)
1 teaspoon ground ginger
1/2 teaspoon turmeric
1/2 teaspoon black pepper
1 teaspoons salt (for marinade more for onions and to taste)
3 tablespoons plus 1/4 cup olive oil
1 (3-lb) chicken, cut into 6 pieces, wings and backbone discarded
1 tablespoon unsalted butter
1 large red onion, halved, then sliced 1/4 inch thick
4 garlic cloves, finely chopped
5 sprigs fresh cilantro
5 sprigs fresh flat-leaf parsley
2 cups of chicken broth
3 tablespoons mild honey
1 cinnamon stick
1/2 cup dried Turkish apricots, separated into halves
1/3 cup whole blanched almonds
Special equipment: a 10- to 12-inch tagine or heavy skillet; kitchen string
Directions
Stir together ground cinnamon, ginger, turmeric, pepper, 1 teaspoon salt, and 2 tablespoons oil in a large bowl. Add chicken and turn to coat well. Marinate for 30 minutes, minimum.
Heat butter and 1 tablespoon oil in base of tagine (or in cast iron skillet), uncovered, over moderate heat until hot but not smoking, then brown chicken, skin sides down, turning over once, 8 to 12 minutes. Transfer to a plate or tagine.
Add onion and remaining tagine and cook, uncovered, stirring frequently, until soft, about 8 minutes. Add garlic and cook, stirring occasionally, 3 minutes. Tie cilantro and parsley into a bundle with kitchen string and add to tagine along with 1/2 cup water, chicken, and any juices accumulated on plate. Reduce heat and simmer, covered, 30 minutes.
While chicken cooks, bring honey, remaining cup water, cinnamon stick, and apricots to a boil in a 1- to 2-quart heavy saucepan, then reduce heat and simmer, uncovered, until apricots are very tender (add more water if necessary). Once apricots are tender, simmer until liquid is reduced to a glaze, 10 to 15 minutes.
While apricots cook, heat remaining 1/4 cup oil in a small skillet over moderate heat and cook almonds, stirring occasionally, until just golden, 1 to 2 minutes. Transfer with a slotted spoon to paper towels to drain.
Ten minutes before chicken is done, add apricot mixture to tagine. Discard herbs and cinnamon stick, then serve chicken sprinkled with almonds on top.
Menu Categories
Regional Cuisine
Tags
Links